Quality, reliability,
&

service
Periodically, environmental management projects undertaken by Reclaimit's forestry professionals need a large volume of the mainstream plants, those that typically come to mind when designing land reclamation programs in the Boreal Forest. So when that need arises many of us think of the more familiar spruce and pine trees. These trees, considered mastered for commercial forestry purposes, are best managed in an industrial-scale forest nursery when an order size exceeds 10,000 units/species.
Over the years the Reclaimit consultancy has had the privilege to work with several qualified and competent service teams, just like those lead by Darren in Telkwa and Jeff in Fairview. So, what inspires a good word about Woodmere Nursery Ltd.? Why single them out from a large group of qualified service teams from across Canada? Read on to discover why.
The Woodmere Nursery Ltd. name is associated with quality, reliability, and service. Having 2 solid teams of growers, with one situated in Telkwa, British Columbia and the other in Fairview, Alberta, they are well-positioned geographically, infrastructure-wise, and with skilled personnel to meet industrial-scale production needs, and competitively deliver tree seedlings destined for the Boreal Forest without compromising quality, service, or workplace health and safety. It is the small-town approach to service that persistently reminds Reclaimit's consultants of the advantages brought into our forest reclamation programs by Woodmere Nursery Ltd., where the name on the box is about more than producing the right seedlings, achieving growth specifications, and ensuring a correct box count with decent packaging. It is the service beyond the sale that keeps Woodmere fresh in mind, at the top of the Reclaimit consultancy service team list.
Be it Reclaimit's first encounter with Woodmere back in 2012, when Jeff (Fairview Nursery) took a last-minute request to source white spruce seedlings for a small Reclaimit reforestation project in northwest Alberta. Or in 2019, when Reclaimit called upon Darren (Telkwa) to grow, I-wrap, and package the tamarack seedlings that our consultants prescribed within a woodland caribou habitat restoration program near Christina Lake, Alberta. Well grown and field-ready, the Woodmere seedlings played an important role as one of the reclamation tools applied to targeted legacy seismic lines within Alberta's northeastern Boreal Forest.
It is the examples of award-winning products and services that keep us returning. Now to be clear, the service supplied to solve short notice issues is a welcome gift and is also offered by other growing teams hungry for the opportunities in the marketplace. In the role of customer, Reclaimit consultants understand that calling for last-minute help needs to be the business exception, and not the norm, so that we can always be welcome back! Despite that truth, our team attests that the Woodmere service advantage is quite normal for the teams led by Darren and Jeff. And as a practice, their approach is sure to remain because it is how we do things around here and is solidly established within their corporate DNA.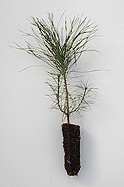 It is the gifts of service after the sale that remind us to give accolades for a job well-done when it is within our ability to do so. And now it is. So, on behalf of the Reclaimit Ltd. organization, here is a shout-out for Darren's team in Telkwa and Jeff's roster in Fairview. If you are an environmental service consultant, environmental firm, or developer needing to get some help securing conventional trees for your reclamation program, from the species mastered list, give Woodmere Nursery Ltd. a call. And when you do, it will not take long to see why they are a preferred vendor for Reclaimit Ltd., to take on the larger tree-seedling orders in a Western Canadian Boreal Forest land reclamation program.